Bio Kyosun rooibos 30 x 2 g
Code:
3075
Product detailed description
Bio Kyosun rooibos 30 x 2 g
Organic Kyosun rooibos is a finely ground powder from the Cape teapot bush. It grows in South Africa, where it is a very popular drink that relaxes the mind, relieves stress and is full of antioxidants. Rooibos itself is popular all over the world, but we bring you a novelty - our Bio Kyosun rooibos is in the form of a light ground powder. Thanks to the fact that you do not just drink the extract, but enjoy the whole rooibos plant ground into an extra fine powder, you will supply your body with a high dose of antioxidants, minerals and you will be easier to get rid of stress.
DOES BIO KYOSUN ROOIBOS CONTAIN CAFFEINE OR TEIN?
Not at all. Rooibos does not contain caffeine, so you can enjoy it even in the evening when you need to relax after a busy day. It is suitable for children, pregnant women, but also for those who love hot drinks and are more sensitive to caffeine or tein contained in tea. It is a great supplement even for those who like to indulge in a sweet drink, but want to avoid added sugar or flavorings. You can drink Rooibos all day and all night.
IS KYOSUN ROOIBOS BIO?
Yes, finely ground Bio Kyosun rooibos is BIO certified. It is therefore grown in a responsible and nature-friendly way. It is so harmless to our body as well.

WHERE IS BIO KYOSUN ROOIBOS GROWED?
The homeland of this red tea is a small area in the mountains of South Africa.
WHAT IS THE RECOMMENDED DAILY DOSE?
You can drink Rooibos without restrictions! Because it contains no caffeine, but is full of antioxidants and minerals, you can indulge in it at any time during the day and in any amount! Even pregnant or children can sail on the light wave of rooibos.
HOW IS THE GROUND ROOIBOS PREPARED?
Lightly pour one sachet, ie one serving of rooibos, into a closable bottle, add 300 ml - 1.5 l of water and then just shake. To warm up, it is best to pour water up to 70 ° C with rooibos, while cold rooibos will refresh and complement your drinking regime. Rooibos has a sweet taste reminiscent of caramel or nuts. Even so, you can taste it with fruit juice or syrup according to your taste.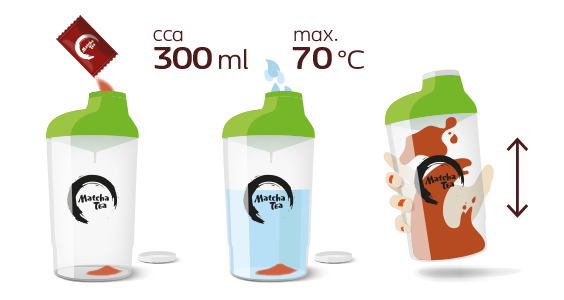 HOW MANY 2 G BAGS DOES THE PACKAGE CONTAIN?
The Bio Kyosun rooibos box contains 30 bags, each of 2 g.
HOW TO STORE BIO KYOSUN ROOIBOS?
Storing rooibos is not difficult - do not expose individual bags to direct sunlight and high temperatures. Our bags will take care of the rest, keeping the tea fresh at all times.
WHAT IS THE DURABILITY OF THE PRODUCT?
The shelf life of Bio Kyosun rooibos is 24 months.
DOES BIO KYOSUN ROOIBOS CONTAIN ANY ALLERGENS? ARE ANY RISKS ASSOCIATED WITH ITS CONSUMPTION?
Finely ground rooibos itself does not contain any allergens. We won't even find caffeine in it.
WHERE IS THE PRODUCT MANUFACTURED?
Origin Bio Kyosun rooibos is in South Africa and packaging in 2g bags is performed by Kyosun s.r.o. here in the Czech Republic.