Emily | Veg Thins | BBQ 85g | Sharing
Code:
5570
Related products
Product detailed description
Emily | Veg Thins | BBQ 85g | Sharing
Introducing Veg Thins vegetable tortilla chips with a tantalizing barbeque flavor! Our chips are made with real vegetables and offer a unique, sweet and smoky twist on a classic snack. Perfect for dipping, these crunchy chips are sure to be a hit with all your friends and family. Plus, with a generous 85g pack size, you'll have plenty to share. Don't miss out on this delicious and healthy snacking option
Looking for a healthy snack that doesn't sacrifice flavor? Look no further than EMILY Veg Thins! These vegetable crisps are made with all-natural ingredients, including corn, green peas, red lentils, black beans, corn oil, natural spices, and sea salt. Not only are they delicious, but they're also vegan, gluten-free, and free from dairy, soy, nuts, and palm oil.
With their bold colors, satisfying crunch, and three mouthwatering flavors, EMILY Veg Thins are a snack you won't want to pass up. Plus, they're high in fiber and provide a guilt-free snack option for any diet.
At EMILY snacks, we believe that healthy snacking doesn't have to be boring. That's why we've created a range of fruit and vegetable chips in a variety of flavors that are sure to satisfy your cravings. Founded in 2014, we are a certified B Corporation, which means we are committed to our employees, our impact on the environment, and our high standards. Try EMILY Veg Thins today and discover a healthier snack option that's full of flavor and goodness!
Ingredients:
Vegetables (corn, green peas, red lentils, black beans), corn oil, rice flour, sugar, sea salt, dried molasses, alcohol vinegar, tomatoes, garlic, onion, smoked paprika, acidity regulator (citric acid), chilli, natural flavouring.
Nutritional information per 100 g:
Energy value 1777kJ/422kcal
Fat 9,2 g
- of which saturates 1,4 g
Carbohydrates 59,2 g
- of which sugars 3,1 g
Fibre 12,4 g
Protein 15,3 g
Salt 1,3 g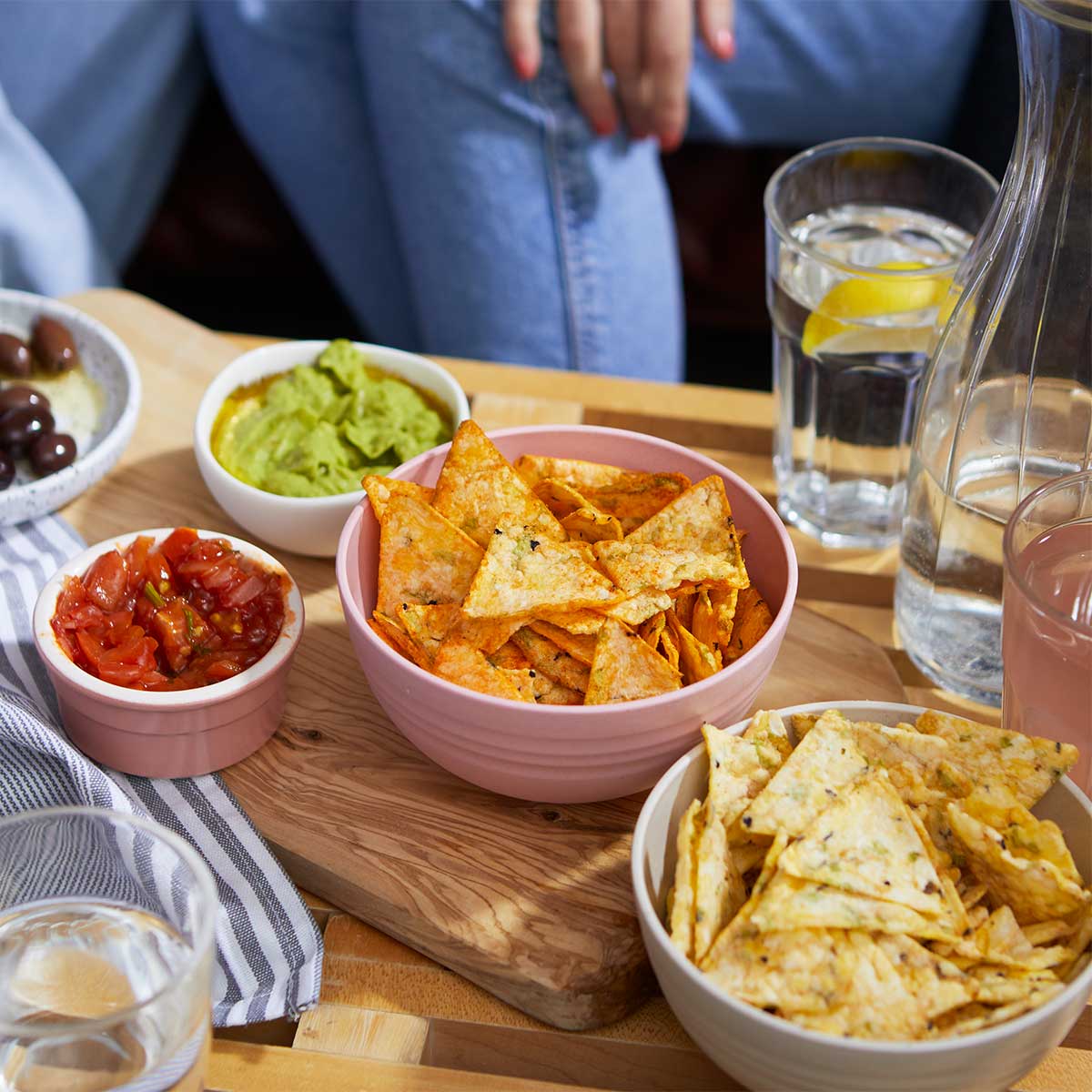 Additional parameters
Category

:

Emily
Weight

:

0.094 kg
Units per case

:

8 units
Language on packaging

:

EN, FR, ES, NL, SE, DK, NO, DE
Recommended selling price

:

2,99 EUR
Cases per pallet

:

56 cases
EAN carton:

:

05060379659532
Gross pallet weight:

:

68 kg
Pallet height:

:

1670 cm