Emily | Veg Crisps | Rainbow roots 30g
Code:
6124
Related products
Product detailed description
Emily | Veg Crisps | Rainbow roots 30g
Colorful slices of root vegetables baked to crispy perfection and lightly seasoned with sea salt. Crispy chips that will amaze you with their color. Now available at Green Heads. Small pack of 30g.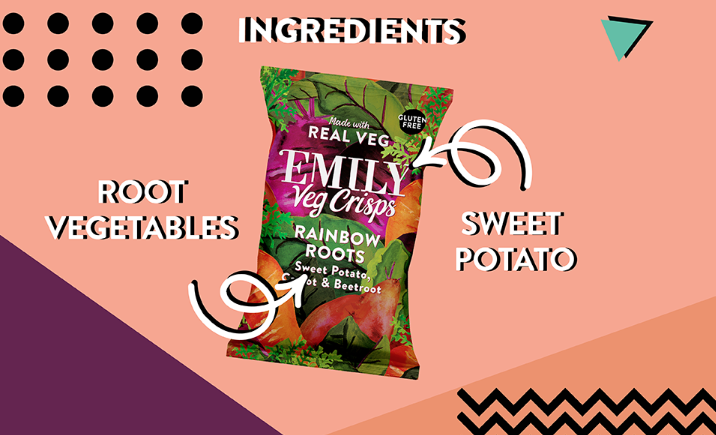 MADE FROM REAL VEGETABLES: EMILY Veg Crisps combine everything you could want in a healthy snack – full of flavour, made with only natural ingredients and amazingly free of gluten, dairy, palm oil, soy and nuts. Whether you're looking for vegan snacks, gluten-free snacks or just something natural to put in your kids' lunch boxes, these are extra tasty, all-natural veggie crisps.
HIGH FIBER: Treat yourself to a savory afternoon snack without any guilt or bad feelings with these gluten, dairy, soy, nut and palm oil free veggie chips that are high in fiber and high in taste. Never compromise on taste or nutrition, with vegetable chips from EMILY, which combine taste, crunch and goodness, for the perfect crunchy snack!
Ingredients:
Root vegetables (sweet potatoes, carrots, beets) (77%), sunflower oil, sea salt,
Nutritional information per 100 g:
Energy 2003kJ/479kcal
Fats 23.4 g
– of which saturated fatty acids 2.3 g
Carbohydrates 58.2 g
– of which sugars 39.1 g
Fiber 10.2 g
Protein 3.9g
Salt 0.99g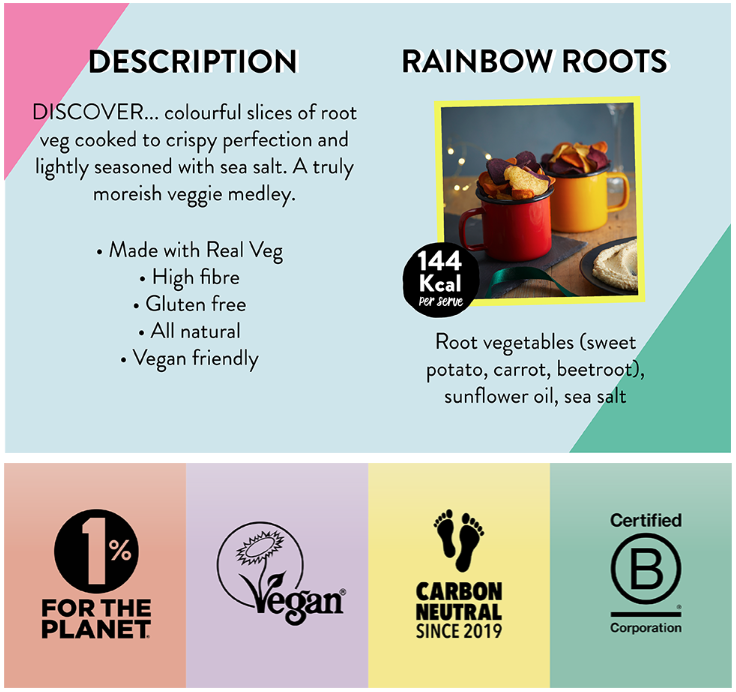 About the Emily brand:
EMILY is a unique brand of snacks that we have newly in the Green Heads portfolio.
Founded in 2014, it focuses on creating crunchy snacks made in unique flavor combinations. The company has a B Corporation certificate, 1% for the planet and is 100% carbon neutral.
One of Emily's products are Veg Thins, which are the perfect choice for a healthy snack. They are made from real vegetables and contain no artificial ingredients, gluten, palm oil, soy or nuts. These vegetable crisps are delicious and suitable for vegans, people on a gluten-free diet and anyone looking for natural products.
Additional parameters
Category

:

Emily
Weight

:

0.033 kg
Pcs in package:

:

12 pcs
Language on packaging

:

EN, FR, ES, NL, SE, DK, NO, FI
Recommended selling price

:

1,49 EUR
EAN carton:

:

5060379659853
Cases per pallet:

:

135 cases
Gross pallet weight

:

100 kg
Pallet height:

:

1591 mm