Fonte beetroot cacao latte 300g
Code:
5049
Product detailed description
Fonte Beetroot Cacao Latte 300g
A delicious coffee alternative in powder form that makes a great latte, from Fonte in a 300g pack. The beetroot latte is possibly one of the most beautiful lattes you will ever see, an absolute must for all coffee selling businesses looking for a unique experience.
Vegan and vegetarian specialty latte powders are becoming the next high-end trend that all reputable coffee shops, cafes and delis should include on their menus.
Our beetroot latte powder is simply one of the most visually stunning products you'll ever see! Packed with natural ingredients, not only does it look great, but it's also packed with valuable vitamins!
Differentiate your beverage offering from the competition with one of our most exciting new products in years.
How to make:
For a dairy-free and vegan alternative, try oat or pea milk.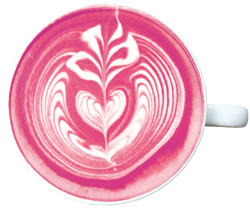 1 x 300g pack - up to 30 servings per bag
Ingredients: beetroot powder, coconut blossom sugar, cocoa powder (15%), ginger powder.
Additional parameters
Category

:

Fonte Superfood Latte
Weight

:

0.33 kg
Volume:

:

300g
Portions

:

30
Certification

:

Vegan
Packaging:

:

Paper with foil
The item has been sold out…